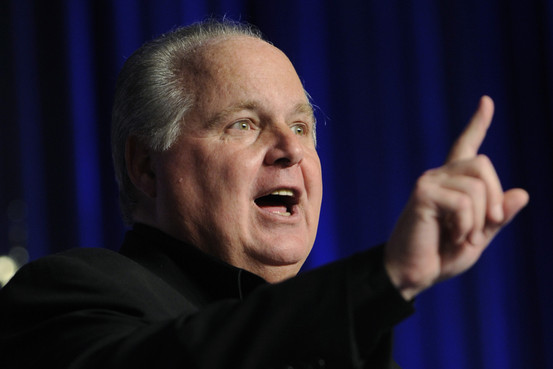 Famed slut and Missouri native Rush Limbaugh might end up as a statue in the State House of Missouri. Nobody knows when it will happen, but this smidgen of controversy has already created national news. Rep. Steven Tilley, Majority Speaker of the Missouri House of Representatives who recently dropped his bid for governor, has put up $10,000 of his own money for the sculpture.
The Hall of Famous Missourians currently includes busts of Sacajawea, Mark Twain, die-hard politicians, and dead celebrities. The Office of Missouri Governor Jay Nixon was unavailable for comment on whether the other sculptures in the Hall of Famous Missourians were privately funded.
Regardless of whether Rep. Tilley personally funded the Rush Limbaugh sculpture, the Majority Speaker holds honorary power to inaugurate Limbaugh, or anyone else, into the Hall. No legislative route exists that would allow for a public vote on the Limbaugh sculpture.
On March 5, Rep. Tilley publicly responded to the ongoing debate—which, so far, has focused on Limbaugh's questionable character and not the more egregious problem: Rep. Tilley's abuse of political power. In a sharp retort, Tilley said, "It's not the Hall of Universally Loved Missourians. It's the Hall of Famous Missourians."
As to be expected, nobody's throwing love in Rep. Tilley's direction. The Missouri Minority Caucus expressed their grievances in a March 6 petition, available online, which calls for Rep. Tilley to cease his plans to induct Rush Limbaugh into the Hall.
"Fame alone has never been considered sufficient to earn someone a place in the Hall of Famous Missourians. If it were, outlaws Frank and Jesse James—two of the most famous Missourians of all time—would have been inducted long ago."
The Caucus makes a good point, but since "famous" versus "not famous" isn't a valid legal loophole, Limbaugh may end up with a statue anyway. We all hope it doesn't get that far—Limbaugh's on record saying he doesn't care for artists—so we'd like to table a framed congratulatory email as an alternative. We're sure it would look great next to Emmett Kelly, the genius behind the hobo clown "Weary Willie" or, better yet, Bob Barker, a slut who's been sued multiple times for sexual harassment.